Wow! Where has summer gone?  It wasn't too long ago that I was longing for cooler days during the many excessive humid days we had this summer.  This summer was a HOT (for Wisconsin) and dry (which I really like) one.  I will definitely have to reminisce over my photos once winter has returned…
As I organize my photos to share with you, I realize that I should have saved my photos from the post Summer Blooms Beginning to Appear… to be in this post. (I think its fun to see them side by side.)  Oh well…I'll have to remember that for next time!

The award for my favorite flower potted on my deck goes to: the Peruvian Daffodils– so cool and smelled so sweet.  I wish I would have planted more and spaced them 3 weeks apart, which would have allowed me to enjoy them all summer.  I still loved my Purple Gem Dahlia in my other pots that continue to bloom even now in September!
My Purple Coneflowers,  Gaillardia (blanket flower), and Monarda (Bee Balm) filled in so nicely  where my tulips had flourished in the spring.   At one edge of my pond garden the Castor Bean plant and Elephant Ears gave such a tropical feel, along with my hardy in zone 5 – Hibiscus!  On the other side of my pond garden I have my Tiger Eyes Sumac to give a bit more of a tropical feel as well, surrounded by my Black Knight Butterfly Bush, more Monarda (gotta keep those hummingbirds coming!), Spiderwort, Coreopsis and more.
My front bed was much fuller this summer as well, but I will need to make some adjustments on the placement of some items.  I loved the combination of my Phlox, Black-eyed Susans and Shasta Daises.  Now I have continuous gladiolus flowers blooming each week for great cutting displays in my kitchen!  Priscilla Gladiolus and Fidelio Glads fill this vase for a punch of color.  And my pink Turtlehead (a bit more aggressive then I'd like) is blooming now.
All throughout my beds I had surprises come up about 2 weeks ago… Lycoris Squamigera (Pink Magic Lily). I definitely want to add en mass in my front bed!
Oh yes – and those long awaited, slow-growing Begonias… those are great in my pots on thefront stoop with very little sun!  I LOVE my Apricot/Scarlet Picotee Begonia the most.  I mixed them with purple Wave Pentunias and Red Hanging basket Begonias.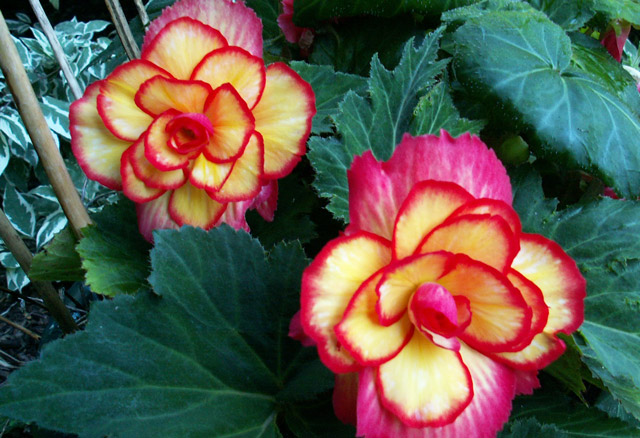 Now, as I am putting all of this together, I see how many photos I failed to take.  Time seems to go so fast for me in the summertime…just as my kids are growing too fast.  I wish I had taken more pictures of them this summer, as well.  🙁   It seems as though I used to take more photos in the past…going to have to make a conscious effort to do so more in the future!