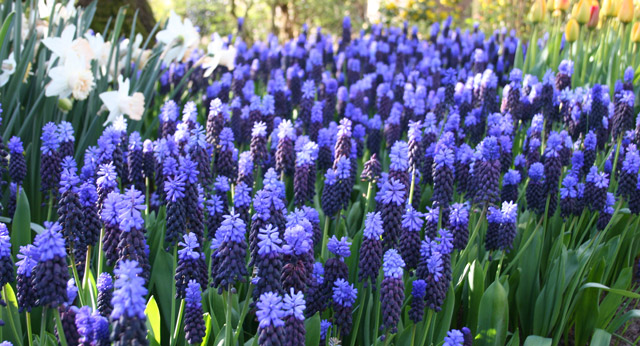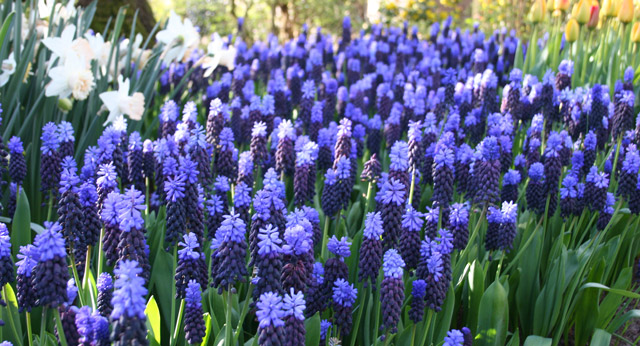 A great flower bulb addition to any garden – a must have!
Muscari

is a short flower that is very easy to grow which typically blooms in the early to late spring depending on the species. Their lovely blooms range in color from blue, purple, to white.
First cultivated in England in 1576, Muscari is a plant that has stood the test of time! There are over forty species of this plant in the genus Muscari which all produce spikes of round, closed  flowers which resemble bunches of grapes.  They top out at about 4-8 inches tall.  The two most common species in cultivation are the Muscari armeniacum (blue in color) and Muscari botryoides 'Alba' (white in color). Muscari are generally hardy in zones 3-8.
These little beauties grow well in rock gardens, borders, and as under-plantings for other taller spring blooming bulb plants, such as tulips and daffodils. Rodents and deer tend to shun this plant which makes them great for naturalizing along the edges of wooded areas!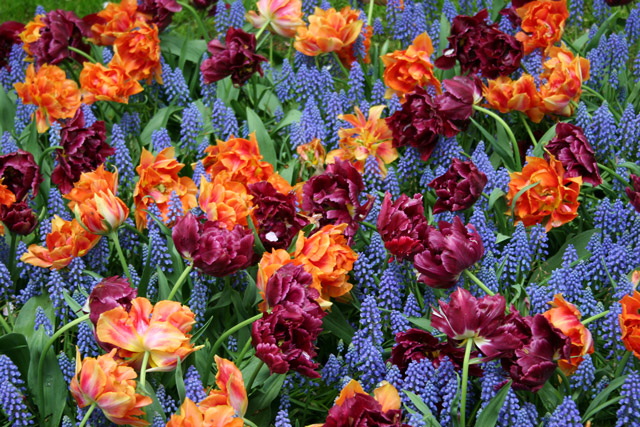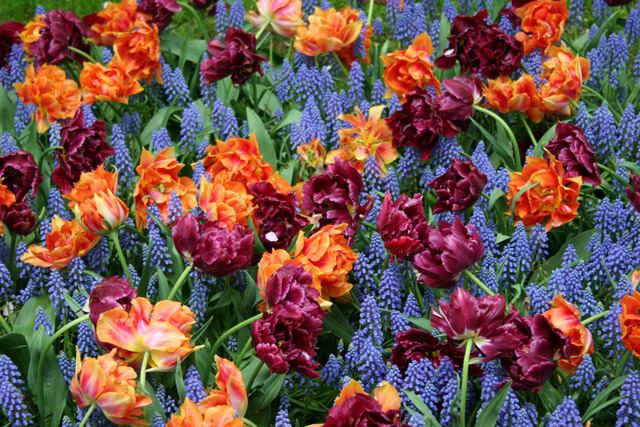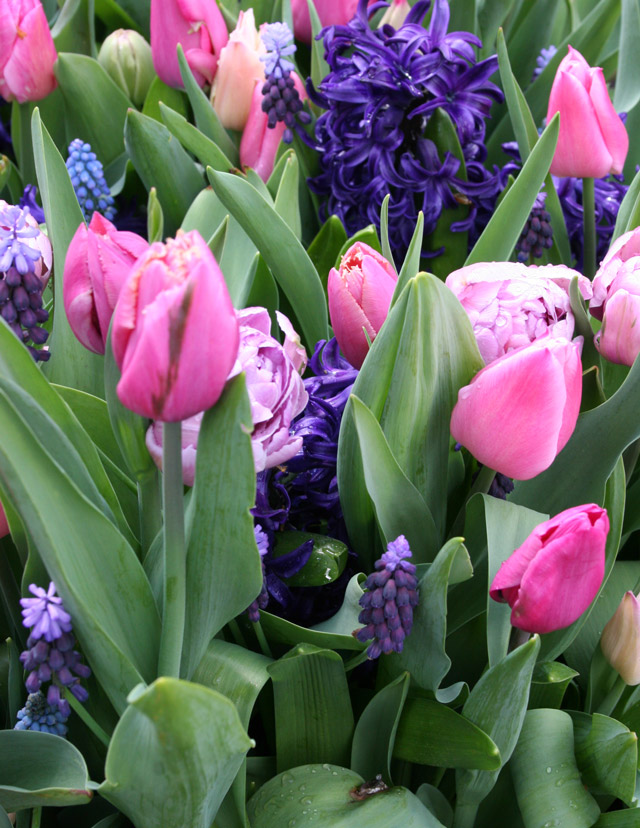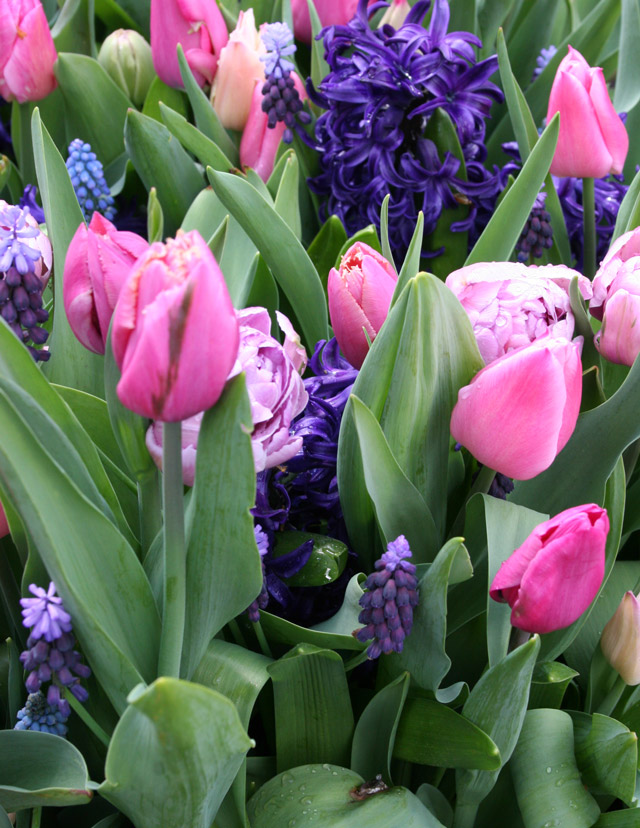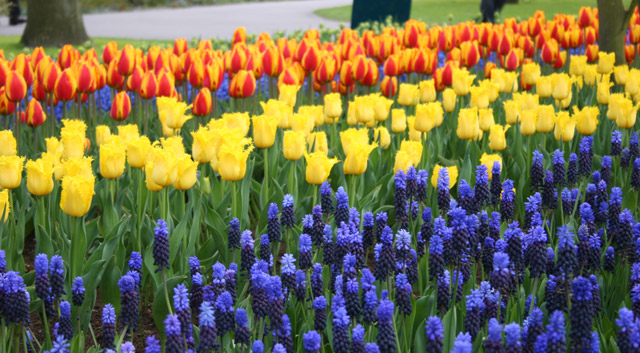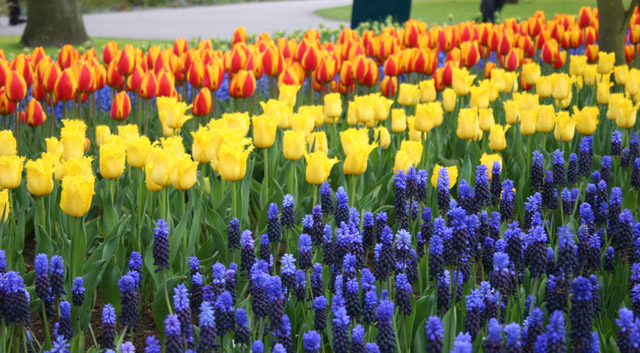 Thriving in full sun to half shade, grape hyacinth require little to no work once planted!  They are long-lived and the bulbs can be split every few years in fall and replanted to continue for generations!  They naturalize and spread easily on their own which makes them a perfect choice in large areas.  Muscari, crocus, and scilla all naturalize well in lawns (just be sure to allow foliage to wither before cutting the surrounding grass).  Plant them just 2-3″ deep and at least 2″ apart, as they will fill in well each year.
Muscari bulbs are great for indoor forcing, grow wonderfully in containers, and their blooms last just as long as cut flower as in the garden (approx 4 weeks)!  The bulbs typically send up fresh foliage in fall as well, giving them a longer season of interest.  I particularly love them as a border plant in beds and along drive- and walkways!
I can't get enough of the little bursts of purple and blue throughout my garden!  Latifolium Muscari happens to be my favorite – obviously because of the deep purple with the blue, a two-tone flower!!  Two other interesting types that I would like to soon add to my gardens include: Plumosum Muscari (has wiry sprigs of greenish flowers that turn purple when in full bloom giving it a truly unique look) and Fantasy Creation Muscari (has bushier/fluffier blue-purple blooms). Which ones will you try this fall?