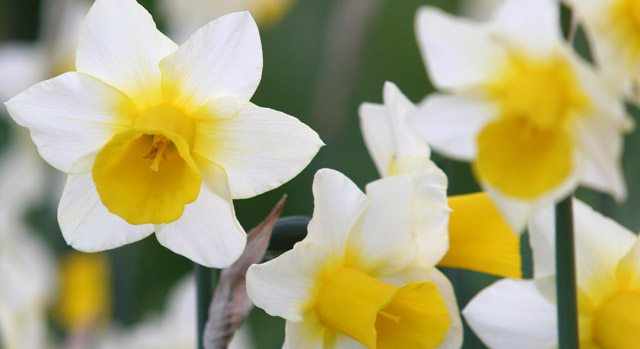 Daffodils are a welcome sight in spring!  All of them are deer and pest resistant, extremely cold hardy, and naturalize well. Some are even slightly frangrant.  And you are not limited to just the basic yellow daffodils – there are many varieties to choose from!
Daffodils are sometimes referred to as Narcissus, that being their botanical name. Some also refer to them as Jonquils (which is just a select division).  Daffodils are marked by a central bell, bowl, or disc-shaped corona surrounded by a ring of six floral leaves called the perianth.  The different daffodil divisions are categorized by the size or type of cup and its perianth.
The different main divisions of daffodils are as follows:
Trumpet – the cup is as long or longer than the petals and has one bloom per stem. 
Large Cup – the cup length measures more than 1/3 of, but less than equal to, the length of the petals and has one bloom per stem.

Small Cup – the cup length measures not more than 1/3 of the length of the petal, and has one bloom per stem. 
Double Daffodils – these have a clustered cup and petals, and sometimes have multiple flowers per stem. 
Triandrus – these have blooms that hang like bells, and often have two or more blooms per stem.

Cyclamineus – these have a wind-swept apperance, and features one bloom per stem. 
Jonquilla – these have small flowers with flat petals and one to three blooms on each stem. Plus, these are very fragrant and feature narrow foliage.
Tazetta – these feature clusters of florets, usually more than three on a stem, broad foliage and are pleasantly fragrant.

Poeticus  – these are known for their extremely white petals. The cup is small with usually a green center, surrounded by yellow with a red rim, featuring a crinkled disc. This daffodil usually produces one fragrant bloom per stem. 
Split Cup – these have cups which are split at more than half its length.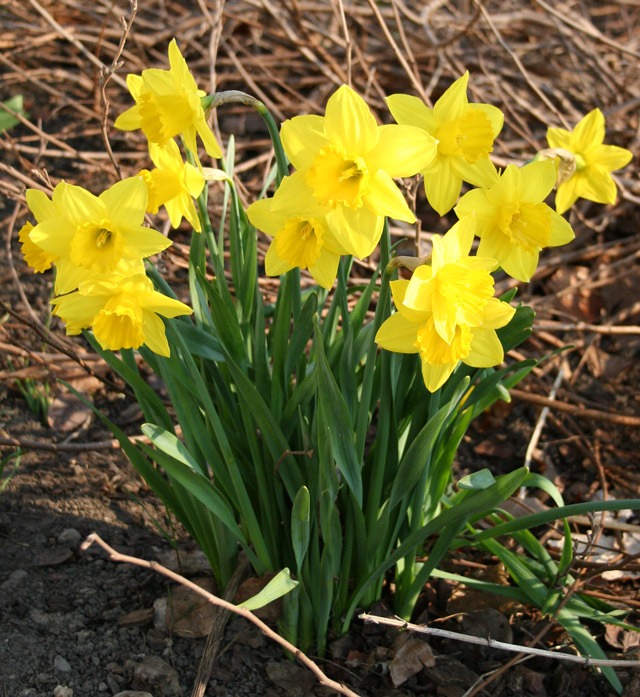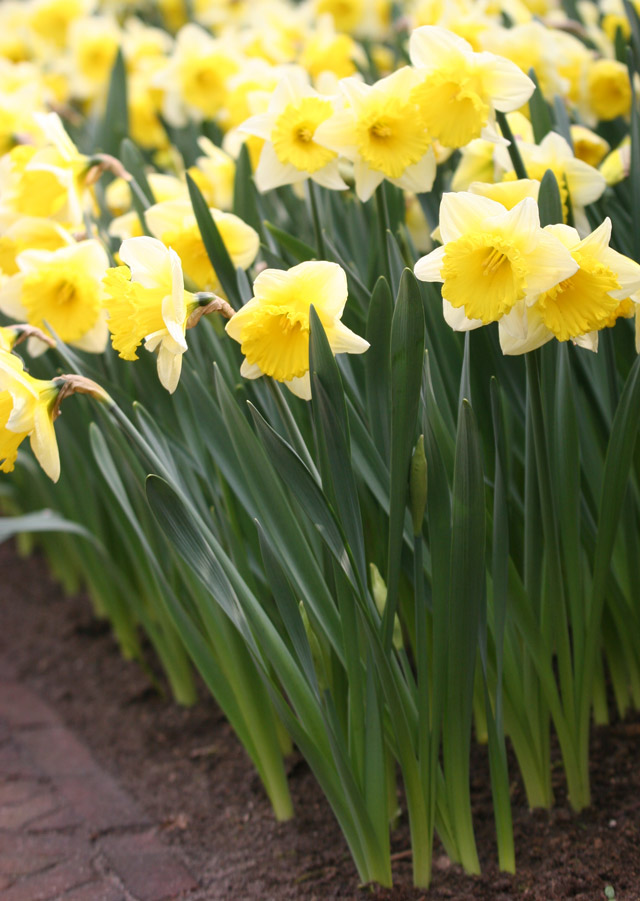 Daffodils like the sun and will continue to multiply and return year after year in zones 3-8.  The bulbs should be planted during the fall season approximately 6-8″ deep and at least 4-5″ apart.  Plant them in grass, plant them in clumps, plant them in borders. They will always be a welcome sight at the end of winter anywhere you put them.
Looking for gift ideas for a friend?  Any daffodil is a great choice for a beginner gardener because they are so easy to grow.  All one needs to do is plant them and let them grow.  No special care is needed.  They can also be a great choice for the advanced gardener, by choosing a daffodil that is less common (but just as easy to grow) to add something new and unique to the landscape.  Daffodils can handle a wide range of zones, weather, and soil…coming back year after year!
Here are some more interesting differences to help you see and choose between the different types (click on the underlined word to see examples):  Trumpet Daffodils contain some of the true classic daffodils found in the spring landscape. Trumpet daffodils flower early in the season.  Large Cupped Daffodils are mid season flowering. They feature colors from white, to yellow, and even yellow with an orange cup. They do a marvelous job of adding spalshes of bright and bold colors to your landscape.   Pink/Salmon color Daffodils will add a softness to your spring color pallette. They look great when planted with other daffodils, as well as pastel colored Tulips and Hyacinths. Double Daffodils come in such an array of color choices, heights and bloom shapes, there is most definitely a double daffodil that will appeal to any garden or landscape. Miniature Daffodils are excellent for rock gardens, as well as small space gardens. These cute Daffodils are compiled from several divisions, such as Triandrus Cultivars, Jonquilla Cultivars, and the Tazetta Cultivars. Try some of these adorable and cheery daffodils in your garden this year! Last but not least are some more varieties that you may never have seen before.  These SpecialtyDaffodils would make a great choice to add a bit more interest to your gardens.  These are the ones that really stand out from the rest of your garden.
I have quite a few different types in my yard.  I always look to add more of what I do not see everywhere else – like the double daffodils and specialty daffodils.  I particularly enjoy ones which are fragrant and offer a variety of color.  Maybe you will find some new unique daffodils to add to your garden too!