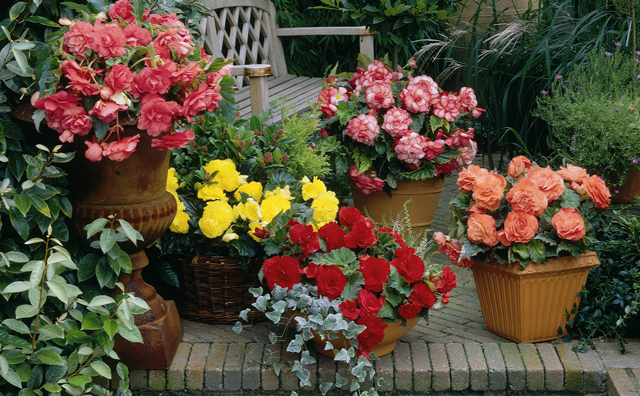 Color.  Variety of colors.  It makes things interesting.  Shade gardens can have more interest, besides shape, size and structure!  Adding color does not need to be complicated or lots of work.
Here is a list of colorful shade plants for summer:
Arum*    Arum italicum is a year-round plant which is at its best in winter and early spring when the arrow-shaped mottled white leaves are very striking.  The whitish inconspicuous blooms in summer are followed by brightly orange colored berries in autumn. Attractive foliage ends out the season on this unique beauty. Interplant near Hosta since they have opposite bloom time. Deer resistant.

Astilbe   Airy fern-like foliage gives this plant a beautiful texture while the plume-like flowers in shades of white, pink and red grace the plant in early summer. Once established they are almost maintenance-free and pest free.  Partial Shade


Begonia*  Great for containers, hanging baskets, or garden borders.  They grow very lush with waxy green foliage and produce practically non-stop blooms of rose-like flowers.  You can start them inside and move them outdoors after last frost to get them going quicker.  When you see wilting or browning of the blooms, simply snap off with fingers to allow for more vigorous growth.

Bleeding Heart   Wonderful soft blue-green foliage adorn this plant while producing numerous dangling pink heart-shaped flowers in late spring.  Will die back in late summer and go into a dormant stage.  Keeping soil moist will maintain its growth longer in summer.  Deer resistant.
Caladium*  These are great for containers, patio boxes or borders!  They love warm and shady areas, making it another plant you may want to start early indoors for longer enjoyment.  No flowers but striking leaves that come fancy, lanced, fringed and ruffled for textural interest. Many colors are available including red, green, white and pink.  Deer resistant.  Partial Shade
Columbine    Tall, airy clover looking leaves with flower colors of pink, purple, red, blue and yellow in late spring. Very easy to grow and can bloom until frost.  They do not require mulching or protection in the winter.
Cyclamen   Nice low-growing green foliage resembles rounded hearts with silver marbling. Produces butterfly-like rose, lilac, pink or white flowers in the late summer and loves dry, shady areas.   Tends to be untroubled by insects or diseases and is deer resistant.
Daylily    Full, bushy sword-like leaves bend gracefully with a wonderful variety of non-stop bloom colors all summer.  This perennial can be grown in partial shade to full sun, drowning or in dry cracked ground. This is definitely a plant that can take some abuse! Great full plant to help keep weeds at bay and use less mulching. 
Heuchera   Another choice for a variety of foliage color that has geranium-type leaves with dainty tiny flowers.  Spotted and rippled in all shades of purple, red, maroon, or orange hues with some green and soft white sometimes adding to the display. Partial shade.
Pulmonaria    Lance leafed with white spots that gets stalks of bell flowers that are shades of blue, pink on each stem.  These are a great option for extremely early spring bloomers to achieve signs of life soon after the winter!
Toad lily*      A hairy stem with clusters of flowers that bloom late summer.  The flowers open into little stars, much like mini orchids.  This plant prefers rather damp soil.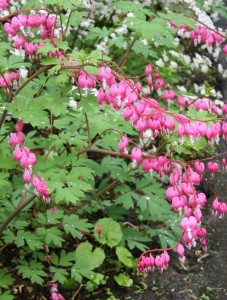 The plants with the asterisk (*) are hardy in warmer zones, 8-10, only.  The other plants listed are hardy in zones 3-9.  If they are not hardy in your zone, you could grow them as annual and enjoy for a single season or easily store them to use as a house plant or replant next year.  For more details on storing bulbs see my previous post: Preparing your over winter garden for winter.
Perhaps you are looking for a little more excitement in your shade areas without much change to your current flower beds. If this is the case, plant begonias or caladiums around a tree to give a little pop of color!  Plant them in the ground or even in some  pots around the tree for even more pop! The possibilities are endless.
If you need more help or inspiration, be sure to check back for my next post, which will have 3 wonderful shade garden plans to get you started!