Here are 3 garden plans to get you "shade-crazy" with your gardens!  If you don't have the same space dimensions available as the plan we have made, you should be able to make some minor adjustments on your own.  Hopefully you will find these pre-planned garden collections helpful and enjoy adding some color and texture to your shaded areas.  I also suggest placing all plants in planting position and then stepping back to verify the spacing looks good prior to planting.   (Don't forget the spacing is recommended for the full growth size of each plant.)  After review of placement, start digging and planting each item!
Perennial Garden Plan in Zones 3-9
If you want color all season, and a low maintenance garden, we suggest this Made for the Shade Perennial Collection  to make planting easy, we have this planting guide to help make a 3 season colorful shade garden.  This garden includes a variety of color from light green, blue green, dark green, pink, white, lilac, and red.   Each year the Hosta, Astilbe, Bleeding Heart and Cyclamen will get fuller, the Columbines and Tojen Toad Lilies will multiply and fill in for a lush and colorful garden bed!
This plan is designed for a 5′ x 6′ garden space.  The first year may seem a bit sparse, be patient, because after the second and third year it will really fill in! Plant the two large hosta in the back corner of the garden, about 12-18″ in from edge, in between the two hosta plant the bleeding hearts roughly 18″ from the back edge of the garden bed.  Plant the Tojen Toad lily in a triangular pattern to the left of the bleeding hearts, approximately 18″ from the center of each plant. Plant the Mixed Columbine also in a triangular pattern to the right of the bleeding hearts approximately 18″ from the center of each plant.  The Astilbe will be front and center in this garden, they should be staggered in front of the bleeding hearts approximately 12-18″ from the front edge of the planting bed.  For a nice low border and late season bloom plant the Cyclamen 10-12″ in front of the astilbe.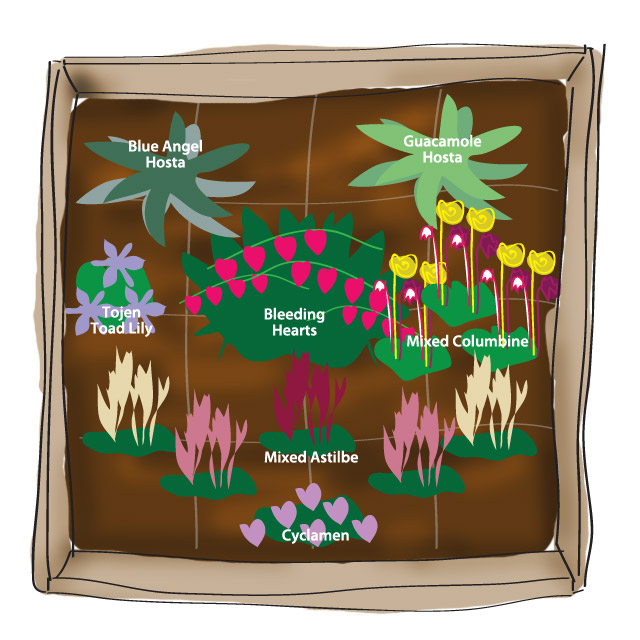 Perennial Garden Plan in Zones 8-10  (annual in zones 3-7)
If you want to mix up your garden with perennials and bulbs the Instant Shade Garden Collection will provide changing colors and textures throughout the growing season.  This garden includes a variety of color from deep wine red, red, pink, white, light green, dark green to orange.  In hardiness zones 8-10 some of the items like the Caladium,and Begonias will get bushier and fill in year after year.  The Arum and Hosta will naturalize and multiply each year.
This plan is designed for an oblong oval, that is approximately 9.5′ long and 5′ wide but tapering in a bit on the right side.  You can certainly make some adjustments to the plan based off location of your tree or the shape of your garden area.  Plant the Albomarginata Hosta 24-36″ apart and about 24″ out from base of tree.  Plant the Voodoo Lily 36-42″ out from base of tree and somewhat between the hosta.  In the front left corner plant Begonias 6-9″ apart, they will make a nice border planting.  On the right side of the bed, stagger/zig-zag the Moonlight and Postman Joyner Caladium from front to back 8-9″ apart. Behind the Italicum Arum add some contrasting color with 3 Sea Thunder Hosta.   Then finally at far right point, you can plant the Italicum Arum.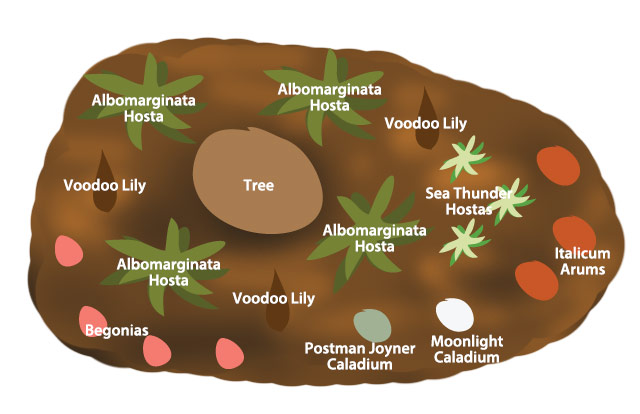 Container Garden Plan for Zones 3-9 (annual zones 3-8)

Container gardens can be fun and easy additions to almost anywhere. We have two collections that will not only add color, but contrasting color to your porch, front entry way or tucked in your shaded garden bed.   Begonias are slow to start but get full foliage and continue re-blooming all summer long.  The Caladium will have full color foliage all summer as well! Check out the Switzerland Moonlight Collection or the Shade Basket and Border Collection.
A pot with a diameter of approximately 12″ would be perfect for planting as shown,. for a full looking planter we suggest spacing the bulbs 1-2″ apart at most.  Place the containers on each side of a door, in a shady flower bed, or any shady area you want to spruce up without planting in the ground.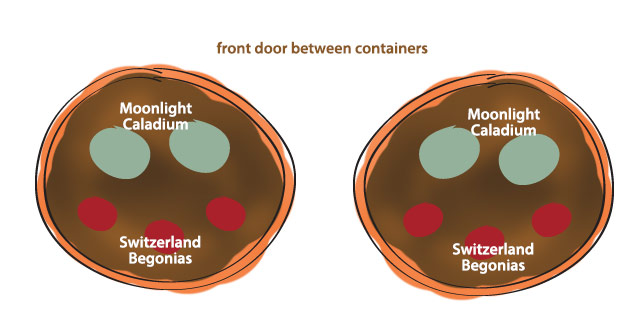 If you want to enjoy some of these great blooms and/or foliage that are considered annual in your area, go for it.  First, you get to enjoy them all summer.  Second, you can lift bulbs and overwinter indoors and replant next spring!
Enjoy sprucing up your shady yard!